Created in 1975 in the old outskirts of the city, Safa Park today is an enormous park in the heart of Dubai. Here you can enjoy impressive views of the city's skyline. The park is located almost in the city center and is surrounded on all sides by imposing skyscrapers.
A pleasant green space in the city
Safa Park has barbeques, play areas, three lakes, more than 300 species of birds, and around 17,000 types of trees and bushes.
The grass lawn covers around 80% of the surface of the park, which makes this green space a delightful area to escape the hustle and bustle of city life and relax in the shade under a tree.
The park also includes a small forest and hill, from which a waterfall flows into one of the park's idyllic lakes. You can even take a wonderful boat cruise along the lake.
As is tradition across the whole country, in the park there is a reserved area just for women and children.
The park with best views
Safa Park is a pleasant green space in the city. This is a favorite retreat for both ex-pats and locals, to take a walk or do some exercise in their free time.
The most appealing element to this urban parkland area is the special views of Dubai's skyline on offer.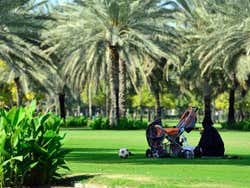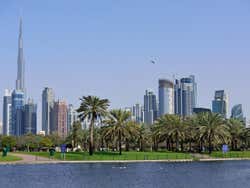 Schedule
Opens every day between 8 am and 11 pm.
Price
A tickets coasts 3 AED.
Transport
Bus: lines 12, 93, 98E and F20.
The closest Metro station: Business Bay Metro Station 1 (red line).