Dubai Mall opened its doors in November 2008, becoming the largest and most popular shopping center in the world. This huge complex has an incredible 1,200 shops and 14,000 parking spaces.
Shops
Dubai Mall has shops for all tastes and budgets, from large designer brands such as Dior, Chanel, Louis Vuitton, and Dolce & Gabbana through to international chain stores such as Zara.
Besides clothing, you will also shops selling a wide range of other products including books, watches, accessories, electronics, and homeware, to name just a few.
The mall even has its own "Gold Market" on the ground floor, where you will find a large number of decorative jewelry.
Around the Dubai Mall
The shopping center is located immediately next to the stunning Burj Khalifa, the tallest building in the world. In front of the mall is the beautiful lake of Dubai Fountain.
For the perfect evening, you can dine in one of the various restaurants that have spectacular views of the fountain.
Entertainment
Dubai Mall also has a huge Aquarium, an Olympic-sized Ice Rink, the city's largest cinema, an indoor amusement park, and KidZania, an interactive edutainment center where children roleplay adult jobs.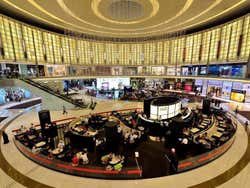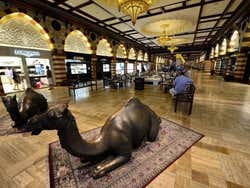 Schedule
From Sunday to Wednesday from 10 am to 11 pm, Thursday, Friday, and Saturday from 10 am to midnight.
Transport
Bus: line 27.
Dubai Mall has 12 free buses that depart from various hotels in the city.