Ski Dubai is the largest indoor ski slope in the world. It is located in the Mall of the Emirates shopping center, one of the largest in Dubai.
The dimensions of the slope speak for themselves: 280 feet high, 260 feet wide and up to 1300 feet long. There are five different courses of varying difficulty.
Like any other reputable ski resort, Ski Dubai offers skiing and snowboarding courses all year round. The prices of the classes are a little higher than those at traditional ski resorts.
What I need to bring 
The cost of the ticket includes all the necessary equipment except for the gloves.
Snowpark
If you don't want to ski, there's also a ticket for the Snowpark. This will give you access to all the thrilling activities such as the Bobsled, Tubing Run, Snow Bumpers, Climbing Wall, and the kiddies Snow Plough playground. You can also have a delicious drink in the amazing Ice Bar.
You can find more information via the resort's website: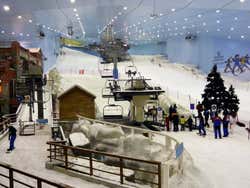 Schedule
From Sunday to Monday from 10 am to 11 pm.
Thursday from 10 am to 12 midnight.
Friday from 9 am to 12 midnight.
Saturdays from 9 am to 11 pm.
Price
Two hours: adults, 210 AED (US$ 57.10); children under 12 years old, 180 AED (US$ 49)
Full day: adults, 310 AED (US$ 84.40); children under 12 years old, 285 AED (US$ 77.60).
Snowpark: adults, 130 AED (US$ 35.40); children under 12 years old, 120 AED (US$ 32.60).