One of Dubai's claims to fame is its beaches. Every year, dozens of hotel chains open new resorts on the immense coasts along the gulf, filling the beaches of Dubai with luxury and glamour.  Discover some of the best beaches in Dubai.
Please bear in mind that a large part of the coastline is taken up by hotels with private beaches. If you're not staying in one of these, you have two options: find a public beach or pay for access to a beach club. Luckily, there are many high-quality public beaches all along the coast of Jumeirah.
Public beaches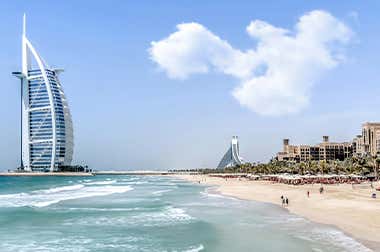 Jumeirah Beach Park covers an endless stretch of beautiful sand, gardens, barbeques, children's areas, and bars. This is one of the best beaches in Dubai.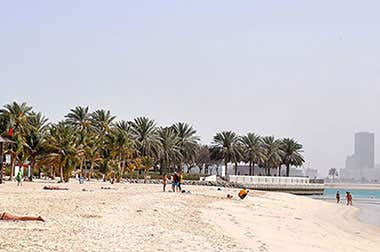 The lush green vegetation which surrounds Al Mamzar Park conceals a stunning beach of fine white sand and crystal blue water. This is Dubai's best beach.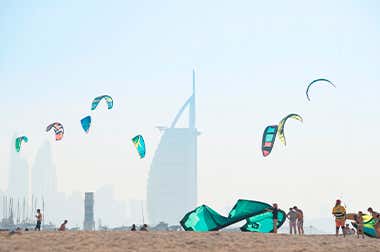 Kite Beach, a nice beach offering unbeatable views of the Burj al Arab, is the ideal setting for surfing and kite surfing.
Private beaches in Dubai
Hotel beaches are usually top-quality and can be accessed when you buy a daily pass. The price of beach clubs starts at 100 AED (US$ 27.20) per person and includes the use of swimming pools, bars, and the rest of the hotel facilities.
Some of the most notable beach clubs are:
Club Mina (Le Meridien Mina Seyahi)
Habtoor Grand Beach Resort & Spa
Club Joumana (Jebel Ali Golf Resort & Spa)
RIVA Beach Club (on Palm Jumeirah)
Nasimi Beach (Atlantis The Palm)
One&Only Royal Mirage
Sheraton Jumeirah Beach Club
The Quay Club (Mina A'Salam)
If you ask us whether these private beaches are worth it or not, we think that with the existence of spectacular public beaches such as Al Mamzar Beach Park, it's not necessary to pay for access to a hotel.