Get to know the geography, districts, and artificial islands of the city so you can make the most of your trip to the emirate city.
Dubai is the most important member of the seven emirates that make up the United Arab Emirates. The city extends for more than 30 miles along the coastline bordering Sharjah at the north and Jebel Ali to the south.
Notable areas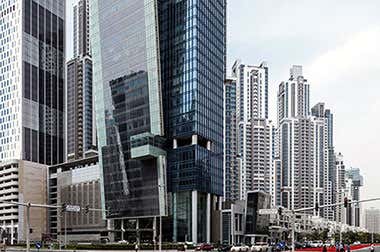 With the Burj Khalifa as its focus, Downtown Dubai has become the modern heart of Dubai. This is area is simply unmissable.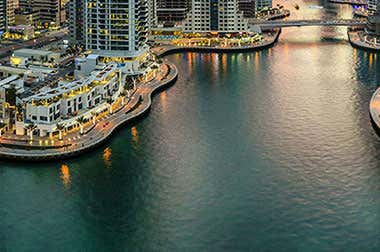 Located in the heart of modern Dubai, the marina is one of the most pleasant parts of the city and where the most modern buildings are located.
Historic districts of the city
Where to find the good beaches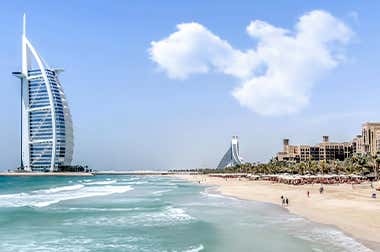 Jumeirah is the most famous beach zone of Dubai, and the preferred residence for expats who have made the city their home. Find out more here.
Extending land into the sea
One feature that is striking about Dubai is how it continually expands out into the sea and constructing artificial islands along the coastline. The mains ones are the following:
Palm Jumeirah
Palm Jumeirah is the first and smallest of three palm islands that have been created in the ocean. Along its 48 mile coastline, 4000 houses and 32 luxury hotels have been constructed.
You can find more information here: Palm Jumeirah 
Palm Jebel Ali
Despite construction put on hold since 2008, Palm Jebel Ali still doubles the size of Palm Jumeirah. It is estimated that within a few years it will be home to more than 250000 people.
Palm Deira
Palm Deira was initially intended to be the largest artificial island in the world, five times bigger than the other two islands. However, in 2007, the construction company, Nakheel, started reducing its projected size. In 2008 work was put on hold and in 2013, the name changed to Deira Island (Isla Deira).
The World islands
Completed in 2008, this grand project is made up of 300 artificial islands that are positioned to form a map of all the continents. Some of the smaller islands are now privately owned and other larger ones are home to property developments, luxury resorts, and commercial centers. Various famous people have purchased islands in The World archipelago.
You can find more information here: The World
Future projects
The plan to extend the beach into the ocean by buildings artificial islands seems to have no limits. In recent years that has even been ideas for projects such as "The Universe".
How to see the different areas
Dubai is an extensive city and to get to know all the different areas we recommend that you rent a car or sign up for a guided tour. We offer a comprehensive Dubai Tour which can also be combined with a Desert Safari at a very special price.