The newest of Dubai's water theme parks, Aquaventure opened its doors in 2008. It is located on the grounds of the luxury Atlantis Hotel.
Attractions
Aquaventure boasts attractions that cannot be found in other water parks: there are jet-propelled toboggan rides, a tube slide that passes through an aquarium through its interior, and the world's first dual waterslide.
A plus point is that, except for the toboggan, all the other slides are descended using inflatable floats.
Wild Wadi Water Park or Aquaventure?
The price of Aquaventure is considerably higher than Wild Wadi Water Park, so if you just want to enjoy an entertaining day at a water park, Wild Wadi may be the better option. Aquaventure is newer, prettier, and in a stunning location on Palm Jumeirah, but the price difference is definitely something that should be kept in mind.
Buy Tickets
If you're interested in visiting Wild Wadi Waterpark, you can buy your tickets through our website at the following link: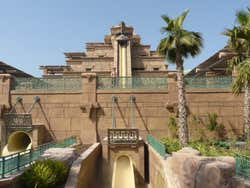 Schedule
From 10 am until sunset.
Price
Adults: € 76.90 (US$ 81.40)
Children 3-7: € 64 (US$ 67.80)
Children under 2: free
Free admission for guests of the Atlantis Hotel.
Aquaventure Waterpark Ticket 295 AED (US$ 80.30)