No hidden fees or surcharges
We currently don't have any scheduled dates for this activity.
Find out what it feels like to jump from a plane at a height of 13100 ft (4000 metres) by tandem skydiving in Dubai. You'll feel an adrenaline rush like no other!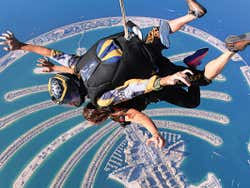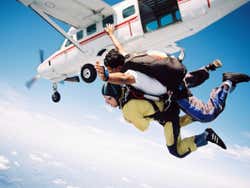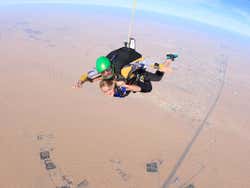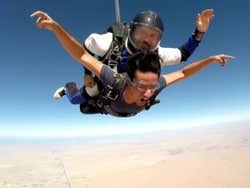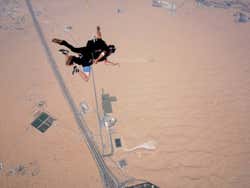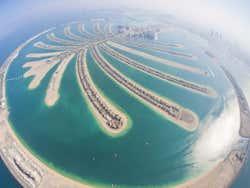 Skydiving in Dubai
If skydiving has always been on your bucket list, don't pass up the opportunity to tandem skydive over one of the most impressive spots in Dubai.
You'll get on a plane with your instructor and when you reach a height of 13100 ft (4000 metres), you'll jump into the air! Are you up for the challenge?
For this activity, you can choose between two exceptional locations to tandem skydive:
Tandem skydive over the Dubai desert
Dubai is without a doubt synonymous with luxury and eccentricities, alongside the undeniable beauty and immensity of its desert. If you choose this option, you'll fall into the sky over the Dubai desert dunes while you get a surge of adrenaline doing one of the world's most exciting activities.
Tandem skydive over the Palm Jumeirah (from September to May)
Another one of Dubai's well-known symbols is the luxury artificial island in the shape of a palm tree. Palm Jumeirah, the smallest of these artificial islands in Dubai, is a must-see when visiting the city. But is there a better way to see this example of incredible engineering than from the sky?
If you choose this option, you'll fly over Palm Jumeirah and jump into the air while you get a bird's eye view of how the palm remarkably stands out. As soon as you dive, your adrenaline will rocket and you'll experience a feeling you've never felt before. Do you dare to give it a go?
Important! The tandem skydive over Palm Jumeirah is only available from September 2019 to May 2020, between 10 am and 6 pm.
Important Information
Children between 12 and 17 years old must be accompanied by their parents or tutors or take a signed permission form along with a copy of their identity document.
The maximum weight to participate is 200 lbs (90 kilograms, 14 stone) for women and 220 lbs (100 kilograms, 15 stone) for men.
People over 70 years old must present a signed document from a doctor certifying that they have the appropriate level of fitness to participate in this activity.
Video Footage
The activity includes photos and videos of the experience. Once finished, you'll have to wait 45 minutes and go to the shop (in the centre of Palm Jumeirah or the desert) when they will give you a USB with the photos and videos of your skydive.
If you like, they can also create an Instagram video for 100 dirhams (9.45 euros). This is only available for the skydive over Palm Jumeirah.
Meeting Points
You'll have to be at one of the following meeting points at the time you have selected:
Tandem Skydive over the Dubai desert: Margham 31 miles (50 kilometres) from Dubai along the road Al Ain.
Tandem Skydive over Palm Jumeirah: Dubai Marina.
In both centres there is free WiFi, a cafeteria and a waiting area for those accompanying you.
View complete description
No hidden fees or surcharges
We currently don't have any scheduled dates for this activity.
Cancellations
Non refundable. You may not cancel this activity.